Sponsorship Opportunities
Aptamers 2018 invites demonstration of R&D and laboratory supplies related to molecular biology and DNA/RNA oligonucleotide research and invites commercial sponsorship. We have a variety of highly-competitive sponsorship packages. However, if your needs are not covered by our offered packages, we will be happy to develop a package to suit your requirements.
Request for travel grant and best poster presentation sponsorship
About five years ago, we established the International Society on Aptamers (INSOAP), a platform for the growing community of aptamer researchers from academia and industry. At the same time, INSOAP established the annual conference, Aptamers, which is held in Oxford annually in March/April. This conference brings together world class researchers who are focused on using these high affinity reagents for both diagnosis and therapy.
Now entering our fifth year and with a high attendance expected again, we would like to offer travel bursaries to allow the next generation of aptamer researchers the opportunity to engage with their peers.  We are currently seeking sponsorship to fund a number of travel bursaries and we request that you consider funding one of these. The grants will be used by sponsored students and early-stage postdocs to partially pay for airfares and/or accommodation. Additionally, we would also like to award a prize for the best student poster. The cost of sponsoring a travel bursary is £350 or equivalent in Euros/US Dollars, and that of the best poster award is £150. The award funds will be payable directly to the successful awardees. Further information about the travel grants can be found on the following link:
http://libpubmedia.co.uk/aptamers-2018/travel-grants
We hope that you will agree to contribute some funds towards ensuring the next generation of aptamer researchers can learn from their peers at this official conference of INSOAP. We would be grateful if you could respond before the 22 January 2018 so that we are able to advertise these bursaries to potential students and provide sufficient time for processing of applications prior to the closing date of abstracts.
We will ensure that your company receives appropriate acknowledgement of your support on the Society's and the Symposium's websites.
Further infomation about our sponsorship brochure, booking form and terms can be obtained by emailing aptamersoxford@gmail.com.
---
Aptamers 2018 Sponsors
Gold Sponsor

RIBOMIC Inc is a biopharmaceutical venture company based in Tokyo. The company is developing molecular targeted pharmaceutical drugs using RNA aptamers with its unique and advanced platform technologies called the RiboART System.
RIBOMIC has been promoting the pharmaceutical discovery program in collaboration with Otsuka Pharmaceutical Co., Ltd., Taisho Pharmaceutical Co., Ltd., The University of Tokyo, and some other academic partners. Especially in April 2014, RIBOMIC entered into a world-wide exclusive license agreement for the anti-NGF aptamer (RBM004) with Fujimoto Pharmaceutical Corporation. In September 2015, RIBOMIC Inc. was listed on The Tokyo Stock Exchange Corporation Mothers Market. Read more on the company website.
---
Silver Sponsor
SomaLog
ic is transforming healthcare by applying our proprietary protein-measurement technology to enable the precise monitoring of each individual's health and wellness status in real time. We work with many different partners across research, health management, pharmaceutical development, and other health-related fields to build applications on our "SOMAscan Platform," a single cost-effective and reliable testing platform that provides actionable and timely information to patients and healthcare providers across a wide range of diseases and conditions. Our SOMAmer® and SOMAscan® technologies also have multiple applications across the biomedical and life sciences, and are currently available to the entire scientific community for their own research needs. For more information,visit www.somalogic.com.
---
Silver Sponsor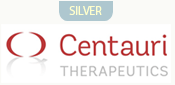 Centauri Therapeutics Ltd is a UK-based biotechnology company focused on the discovery and development of novel molecules targeting life threatening diseases.
The company has established a core R&D facility at Discovery Park in Sandwich, Kent, with an experienced team of industry scientists focused on discovery, optimisation and development of novel Alphamers targeting acute hospital acquired infections.
The Alphamer technology is based on "programmable immunity" in which chemically synthesised molecules redirect naturally occurring antibodies to selected pathogens to fight the infection. The molecules have two distinct parts: one end binds a cell-surface target on the pathogen using an aptamer whereas the other end presents specific epitopes that attach to the circulating antibodies. It has been demonstrated that Alphamers have the potential to redirect pre-existing antibodies to bacteria in a specific manner and trigger an immediate antibacterial immune response, so clearing the infection.
Centauri acquired the Alphamer platform following the publication of a successful preclinical proof of principle study and continues to build the platform and drug discovery expertise necessary to exploit the exciting new approach
Centauri Therapeutics' assets include specific leads and platform chemistry that is protected by strong IP and a family of granted patents and applications.
For more information about the company please visit www.centauritherapeutics.com.
---
Silver Sponsor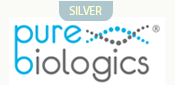 Pure Biologics is a specialized contract research organization with expertise in recombinant protein production, purification and biophysical analyzes. We proved ourselves in this field successfully completing tens of research projects and collaborating with entities worldwide. More information will follow soon.
---